On January 18th the next Scarlet Mill release will see the light, presave 'Sinking Man' now on Spotify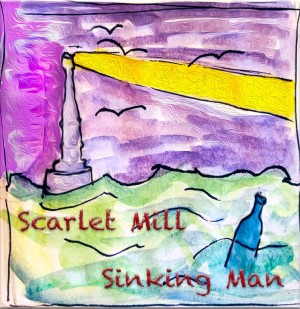 Sinking Man is a slow paced, salty, fado-ish glamrock ballad; with melancholic piano and vibrato guitar garlands, and a forlorn saxophone soloing in the mist. The menacing sounds of a dark hammond organ paint the murky night scene of a drunken sailor, nearly forgotten trumpet in his hands, stumbling over the harbour pier.
Sinking Man is the next episode in the story to be unfolded in full only on Scarlet Mill's upcoming second album. Whilst the male protagonist has found shelter in Port Henry, and entrenched himself in a secluded and windy harbor to contemplate his evil deeds, his odyssey will soon take an ominous turn. Seeking solace in booze, scraping together his income as a session musician in the harbor café, he ends up penniless and intoxicated, and embarks on an old rusty ship with questionable cargo. In hazy and feverish dreams images of better times pass by, with his great love. Regret consumes his soul and so he falls to his doom on a drunken night.